Program Requirements:
All new Bryan Hall students are required to attend a one-hour Bryan Hall orientation session. This requirement takes precedence over other activities, including participation in Fraternity/Sorority Recruitment.

In both fall and spring semesters, students are required to enroll in one, three-credit-hour "in-house" course held inside Bryan Hall's 24 seat classroom. These courses vary across many disciplines but are chosen specifically to fulfill requirements for graduation (each course counts as liberal studies or elective credit). If you leave Bryan Hall for any reason, you must also leave your Bryan Hall course. Last year's list of courses can be viewed HERE.
In the fall semester, Bryan Hall students are required to attend the Monday evening "Fall Colloquium" course, which features presentations from various FSU programs, talks from distinguished members of FSU's faculty, and small group sessions to guide exploration of students' interests, potential majors, and possible career paths. This is a one-credit-hour pass/fail course. More information about colloquium will be provided at orientation. Last year's colloquium schedule can be viewed HERE.
Additional Opportunities
In the spring semester, Bryan Hall students have the chance to participate in a one-credit-hour mentorship. These mentorships allow small groups of three to ten students to meet more informally while exploring a specific topic. Mentorships are optional, but are strongly encouraged as they offer students a unique and individualized opportunity to pursue topics under the guidance of FSU faculty/staff. Last year's spring mentorship offerings can be viewed HERE.
Upon completing the freshmen year in Bryan Hall, students have the opportunity to mentor the new group of Bryan Hall students by joining the sophomore mentorship program.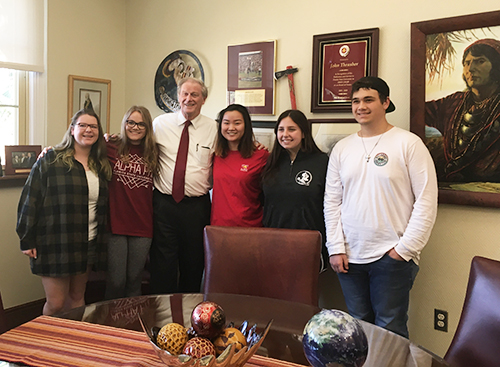 title-inside title-centered
2